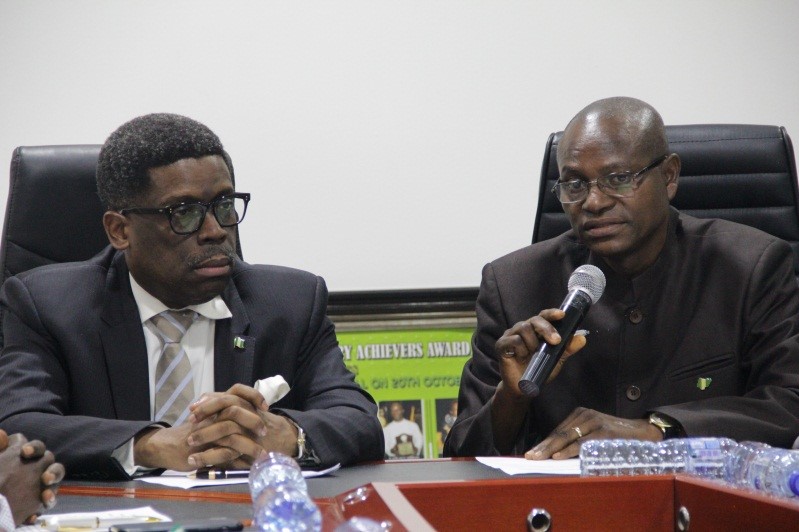 31 May

PERMANENT SECRETARY, SPECIAL DUTIES VISIT NATIONAL LOTTERY REGULATORY COMMISSION

By Chinyere Odinukwe

As part of his supervisory function, the Permanent Secretary, Special Duties, Office of the Secretary to the Government of the Federation, Engr. Festus Daudumade a maiden visit to the National Lottery Regulatory Commission to familiarise with the Director General, Management and Staff of the Commission.

Welcoming the Permanent Secretary and his team of staff to the Commission's headquarters in Abuja, the Director General, Lanre Gbajabiamila revealed that the Commission aims to remain at the forefront of the rapidly growing lottery and gaming industry by exploring new business areas and opportunities.

The DG assured the Permanent Secretary of the Commission's continuous move to become an effective and trusted regulatory agency, as he outlined the functions, achievements, objectives and challenges of the Commission to the Permanent Secretary.

According to Mr. Gbajabiamila, the vital objectives of the Commission are

the procurement of the Central Monitoring System for tracking of lottery transactions and revenue leakages;

Establishment of a national game and recovery of massive revenue lost to Ghana Games;

Ensuring the passing of the National Lottery Bill 2018 intended for the amendment of the 2005 Lottery Act to be in line with modern lottery and gaming industry realities;

Improving awareness of the lottery and gaming industry so that the general public could easily align with the Commission's mandate.

The DG also informed the Permanent Secretary of the challenges facing the Commission such as the amendment of the National Lottery Act 2005 for effective modern regulations, acquisition of a permanent office accommodation, jurisdictional conflict with State Governments and double taxation.

The DG further assured the Permanent Secretary of the Commission's immense cooperation with the Permanent Secretary's office in order to make a positive impact in generating more revenue for the nation.

In his response, the Permanent Secretary Special Duties Office, Mr. Festus Daudu appreciated the NLRC team for the warm reception accorded him and his team on their arrival to the Commission.

Mr. Daudu emphasised that the lottery and gaming industry is a trillion Naira revenue generator which could be harnessed, hammering on the need for both teams to work together as a family for the growth of the lottery and gaming industry in Nigeria.

Mr. Daudu added that his doors were open for the NLRC management team at any time they need his support.

However, he expressed regret over the number of petitions and challenges concerning the Commission which he met    as  he  resumed office as the Permanent Secretary.

Subsequently, the Permanent Secretary encouraged the DG NLRC his Management team to present a proper documentation with specific justification to his office to enable him put up a strong fight for the Commission's case.

The Permanent Secretary further stressed the need for the leadership within the Commission to work in harmony with the staff and all stakeholders.

The meeting was followed by a tour of the Commission's facilities and premises.